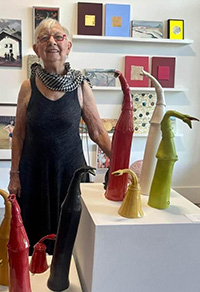 Jan Richardson is the founder, artist and designer of the entire Windy Meadows Pottery Ltd ® line. Jan's interest in American architecture and fascination with the diversities and personalities found in charming old buildings lead her to create her first clay cottage in 1977 at the kitchen table in her Knoxville, Maryland farmhouse.
The clay houses are built from the ground up using slab stoneware. Based on her own formula, Jan developed a color process using natural and colored stoneware and porcelain clay to produce the special "warmth", a trademark of Jan's cottages and candlehouses. The fine detailing is unique to a Windy Meadows Pottery cottage in that each shingle, vine, flower or lattice is applied individually. Jan's private collection candlehouses are quite elaborate with as many as 600 individual pieces applied by hand. All of the Windy Meadows Pottery collections are individually hand-constructed…molds are never used!

More than 40 years have passed since Jan began showing her candlehouses and cottages at local art festivals. Jan's studio has produced hundreds of thousands of cottages and candlehouses over the years including more than 400 different private collection candle house limited edition designs as well as a number of one of a kind Candle houses. Jan Richardson's whimsical creations have captured the hearts of many and have become recognized by collectors worldwide!
Jan has now settled in Saint Petersburg, Florida and is working with clay in a variety of new and sometimes experimental ways. Occasionally she will design a new traditional Windy Meadows Pottery piece. New work includes delicate porcelain "Fragmenti " bowls, exotic ancient vessels and a number of pieces fired in a variety of atmospheric (anagama, wood, soda) kilns.